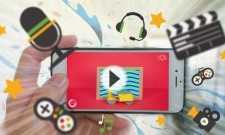 Today, Anetwork officially launched its Video Ads campaign. This campaign can influence businesses branding and also helping them to increasing awareness about their products and services.
Tehran, Iran, September 4, 2016 (Newswire.com) - According to the latest report that published by the Marketing Insider Group, about 65% of smartphone users watch videos on their gadget. In this regard, Anetwork has launched a new service called video ads that advertisers can use that for their branding and increasing awareness about their products and services.
Businesses can use this service for boosting productivity. Because these promotional methods makes people to focus on your advertising, 300% more than other advertising methods. On the other hand, according to the latest Forbes magazine survey on this advertising method, the relative number of mobile applications to help this advertising method, has increased 200%.
This service payment method is CPCV (Cost per Complete View) and there's another payment for when target audiences tap on your advertising.
Those who interested in this kind of advertising campaign, should refer to page "start advertising campaign" page, choose "Video Ads" and then upload their advertising video, intro and final images of the video.
For more information about this service, you can visit "Video Ads" page on Anetwork website or contact their customer relationship team.
Source: Anetwork
Share: