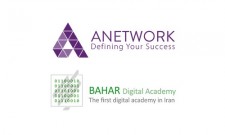 Tehran, Iran, August 2, 2016 (Newswire.com) - ​Bahar Academy starts registering for codes 5&6 of their Digital Marketing mini MBA course. The first code will be held in mid-August.
Up until now, 4 codes of the course have been held and a total of 100 participants have attended.
This big turnout of the program led "Bahar Academy" to once again partner with "ANETWORK" and hold new codes of this effective course.
This course will focus on topics such as: Web analysis, Search-engine optimization, Content marketing, Social media strategy, Public relations online, Video marketing, User experience, Branding, etc.
The headlines of this course will be covered in 75 hours and at the end of each code, Bahar Higher Education Institute will give a mini-MBA Digital Marketing certificate and a common English Certificate will be awarded to students from "ANETWORK" and "Bahar Digital Academy."
Some of the instructors of the course include: Shayan Shalileh (Anetwork CEO, Teacher workshop planning digital marketing campaign), Farbod Sadeghian (DMC CEO), Sasan Behzadi (Parspake CEO), Sam Kordir (PGT Advertising CEO), Neda Golshan (Sarava Design Manager), Hosein Mosavi (Anetwork Strategy & Planning Manager), Farid Asadi (Anetwork Inbound Marketing Manager), Mohammad Arabgari(Anetwork Account Manager), Farhad Beheshti (Anetwork Account Manager), Arash Khosravian (Anetwork Account Manager), Ali Salak (Bahar Digital Academy Executive Director).
For additional registration information about codes 5 and 6 of the course, you can visit "Bahar Academy" website.
Source: Anetwork
Share: